Maggie and Oliver's Litter
4 Males, 5 females born 7-27-23!
Complete an application to reserve a puppy today!
Archer
Collar: Blue | Male
Reserved - Nagarajan
Stephen
Collar: Green | Male
Reserved - Jennings
August
Collar: Red | Male
Reserved - Ludovici

James
Collar: Black | Male
Reserved - Cotnoir
Betty
Collar: Yellow | Female
Reserved - Snodgrass

Dorothea
Collar: Light Blue | Female
Reserved - Cohen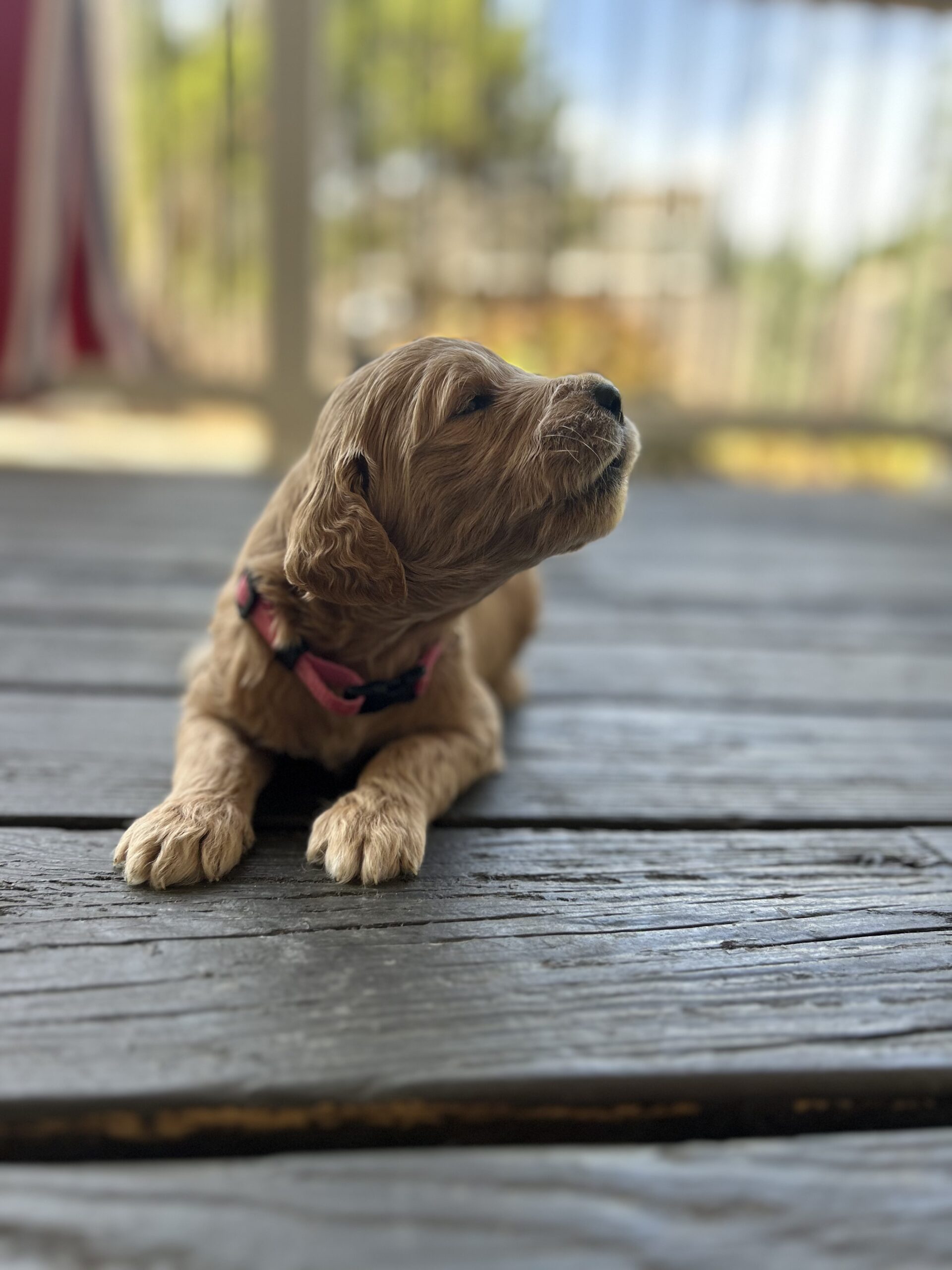 Cornelia
Collar: Pink | Female
Reserved - Tatum

Marjorie
Collar: Purple | Female
Reserved - McDaniel

Este
Collar: Orange | Female
Reserved - Dees

The average size for a Standard Female English Goldendoodle is 19" - 23" (from the shoulder to paw), and 20" - 25" (from the shoulder to the paw) for a Standard Male English Goldendoodle.
Weight range tends to be 55-85 pounds.
---
TERMS:
New owners will make their gender and puppy selections in the order deposits are received. E.g. 1st deposit = 1st pick, 2nd Deposit = 2nd pick etc.
If you placed a waitlist deposit, you have 5 days from the date of birth to confirm your gender selection and make your remaining deposit payment. If payment and gender selection is not made within 5 days of birth, we reserve the right to refund your waitlist deposit and revoke your selection.
Deposits are only refundable in the unfortunate event there is a false pregnancy, miscarriage, or other health related issue with the puppies. Not in the event you change your mind and no longer want a puppy.
If you are on the latter end of our waitlist and there are not enough puppies left to fulfill your selection, you may choose to have your deposit refunded back to you or take the earliest available selection in an upcoming litter.
If you decide you do not want one of the available puppies, your deposit will NOT be refunded. You may choose to apply your deposit to a future litter, or forfeit your deposit.
Puppy selections will be made between weeks 3 and 5 of age on a date we will set, and puppies will be ready to go home on their 6th week birthday.
Once the puppy turns 6 weeks of age, you will have 7 days to pickup your puppy. On the 7th week, we will begin charging $25 per day for continued feeding, potty training, board and care.
If you take possession of your puppy in the state of Texas, by law your purchase is subject to 8% sales tax of the total purchase price.
Puppies are health guaranteed up to their 2nd birthday. Please read our health guarantee here for details.
All deposits and payments must be sent via Venmo or paid in Cash following an approved application. Paypal / Credit Card payments are also accepted, but require an additional 3% service charge. Please contact us for more information, or Complete your puppy application now!
New Puppy Application
Please take a few moments to answer the questions below. We want our wonderful puppies to go to wonderful homes! We will respond within 24 hours. If you don't receive a response please email us or call us.