"Thanks to Hill Country Goldendoodles, our household grew by another four legs. HCG was extremely responsive in answering questions both before and after our purchase. Our puppy is so playful, smart and easy to train."
Lori A.
"Thanks to Hill Country Goldendoodles we have our new addition to our family. We love our new AJ. She is so smart for 6 weeks. Fills our hearts with joy everyday."
Brent A.
"Making the decision to adopt an English Cream Goldendoodle was the best decision I've ever made! Working with Luke and Emily during this process was so easy and very gratifying. They are experienced Breeders and their pups are well cared for GORGEOUS dogs!  I am so pleased to have my adorable Goldendoodle....Thank you Luke and Emily!!!!"
Trisha G.
"We purchased a puppy from Hill Country Goldendoodles recently. The website has a lot of great information on the parents & the puppies. Luke & Emily were very responsive to communication and made everything easy. We received all the information on our puppy's parents, her vet records, and a few items to make her comfortable when we brought her home. Most of all, we have a sweet puppy with a great demeanor!"
Rebecca McCormick
"Hill Country Goldendoodles not only provided us with an amazing new member of our family, they feel like family themselves. They take a proactive, vested interest in ensuring they are providing the healthiest, happiest puppies but it doesn't stop at the handoff. They reach out to make sure the puppy is acclimating well, and provide invaluable coaching and insights in terms of training/care. We couldn't be more thankful we decided to bring Shelton home from Hill Country Goldendoodles."
Will Mallow
"I have now purchased 2 English Golden Doodles from Luke here at Hill Country Goldendoodles. My first one was 2 years ago, a male, we named Finnagan Malloy, the second, we just picked up yesterday March 21, 2021, female, we named Jezebel May. Finnagan has been the best dog I have ever owned. He is intelligent, loving, sweet, playful and protective. He was easy to train and is my forever best pal! He is very healthy, we have ran his health and dna through EMBARK and he is just perfect! Jezebel believe it or not is even more special and we just adore her already. She did great on our car ride home, we are already house breaking her with ease, no accidents yesterday at all. She lets me know when she needs to go outside and she is even shaking my hand already! As a breeder, Luke has been great - he is wonderful in communications, and has done a tremendous job breeding these puppies. I know he loves his girls as much as we love all of our fur babies. I would recommend him to anyone, and I have recommended him to many! Always happy to talk with anyone who may be thinking about using Luke and Hill Country GoldenDoodles for their next fur baby."
Meaghan Davenport
"Thank you Hill Country Goldendoodles for the best puppy! Luke and Emily are so friendly, transparent and easy to work with. Tucker is so smart and playful, and has the best disposition. I would highly recommend Hill Country Goldendoodles to anyone!"
Gabby C.
"Our family recently purchased a puppy from Hill Country Goldendoodles. She is now 11 weeks old and we have only positive things to say about the breeder and our sweet pup, Remi. Communication with the breeder was easy and we loved seeing updates of the puppies along the way. They answered all our questions and when it came time to pick the right puppy for us, Luke and Emily helped us find the one that fit our family perfectly. Remi has such a calm, sweet temperament and is so gentle with our three young kids. She has been the best addition to our family!"
Tess H.
"Our experience with Hill Country Goldendoodles was exceptional from beginning to end. We are so happy with the newest member of our family, Tito. It was worth the travel from Alabama to Texas to get him. Thank you!"
Jennifer H.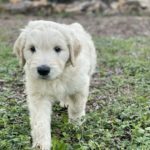 "Our experience with Luke and Hill Country Goldendoodles was amazing. Every time we had a question, we got an answer pretty quickly. My kids had a great experience by going and sitting in the turf and choosing the newest member of our family. I could tell these puppies were well taken care of.
We love our puppy. She is so wonderful. You can tell these dogs are so smart.
It was nice to meet my puppy's mom. She was the sweetest.
Overall, we had a great experience.
Thank you!"
Giselle
"We went to Hill country Goldendoodles for a play mate for our other goldendoodle and Luke was very informational when it came to all the dogs and their personalities to help us figure out the best one. Not only were they informational about the dogs but just made you feel more comfortable while picking out one. He has already sent a message checking in on us and our new addition. Thank you so much Hill country Goldendoodles for our Rebel!"
Heather C.
"Such an easy process to bring our new family member home! Daphne is already fitting right in and is such a happy spunky girl. We can tell how much love these puppies were given prior to being sent off to their new families and that's just amazing! If we ever feel crazy enough to add a third doodle to our crew, we will definitely be going back to Hill Country Goldendoodles."
Lauren A.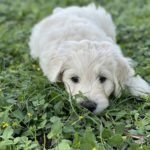 "Thanks to Hill Country Goldendoodles we have our new addition to our family. We love our new AJ. She is so smart for 6 weeks. Fills our hearts with joy everyday."
Brent A.
"Very Responsive and easy to work with! Also the pups are the absolute sweetest! You can tell the family cares a lot of their litters. Would recommend over and over again!"
Julie M.